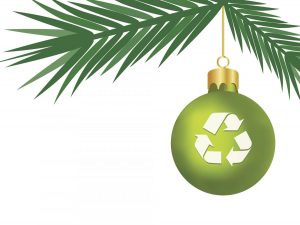 Christmas Trees:
The City of Houston in cooperation with Living Earth Technology will have a drop off site at the library (Bens View Lane @ Bens Branch Drive). Drop your tree from December 26th, 2017 to January 15th, 2018. It will be open daily from 9 AM to 6 PM except January 1st. Remove tinsel, plastic bags, tree stands and water bowls. Flocked trees are not accepted. For questions, call 311.
Wrapping Paper and cardboard boxes: Cardboard boxes can be recycled at the Kingwood Park & Ride Lot each weekend but in the case of gift wrap, it's better to reuse, or not use at all. Unfortunately, the shiny, laminated paper is actually not recyclable. Including it in the bin with other paper products can make an entire load unrecyclable.
Styrofoam peanuts and blocks and bubble wrap: They can be recycled at some UPS Mail Store or try your closest "pack and ship" retail store.  They reuse them to ship packages year round.